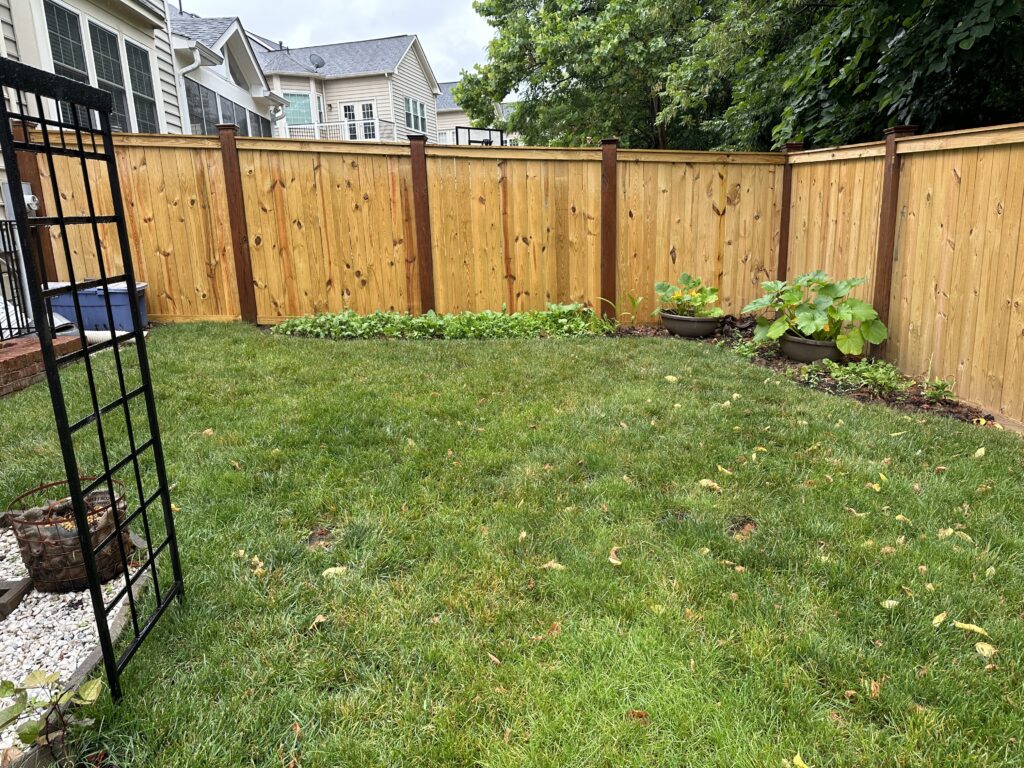 It's a small space – 20' x 40'. Fenced and getting marginal sun. There's a deck. My neighbors as far as I can see have only grass. First I dug two beds. In the shady bed since I'm a seed hoarder, I decided to broadcast old outdated lettuce, greens seeds. Hello! They are happy despite the clay soil. I did amend during the winter with mulched leaves courtesy of a neighboring community garden.
So there's that. I have two containers which get more sun in the same area and they have some Hudson Valley Seeds dark star zucchini and also some yellow squash. However. I only seem to have male blossoms. What's with that? I have my paintbrush at the ready to pollinate but don't see any ladies around. Will report back.
Then the other sunny side. Tomatoes (purchased – hard to admit but hey, I just moved!) and cakes, purple beans (thanks Renee's Garden!) and again, I broadcast collected seeds from Santa Fe everywhere (including dill – i'll hate myself later) and they are coming up in addition to some strawberry corn, and glass corn and of course dahlias.
At the Philadelphia Flower Show I purchased a fig tree (small) and it's going great guns on the deck. In February at Lowe's I also purchased a fig and it's also doing well. Ditto from Lowe's the elephant ears and costa in deck planters to be planted later in the shade side. Is this TMI?
My Passionflower from Barcelona – that is the seeds were from Barcelona – are doing ok (survived the brutal car trip to VA and a winter in a cold basement bedroom) but not blooms. I have plans to give it spa treatment in the fall for major rehabilitation. Gardens = Hope springs eternal.
The front "garden" is so pathetic but I'm spending the summer dumping coffee grounds and my new best friend from the local Shepard's Whey Creamery who provides goat poop for tea and then compost remains into that space. Time will tell.
And of course compost. I have started an urban pile in a plastic storage bin using leaves collected from last autumn (stored in a a local coffee roasters hessian bags to add the brown stuff. The kitchen stuff is never-ending. I have put some worms into the mix. I do turn this baby regularly, maybe for my own pleasure because there is nothing more satisfying than seeing your egg shells disappear. I do sift for additional smug pleasure but it's not necessary, I know. If you can, please do compost. It can be done small and it will enrich you and your garden space.