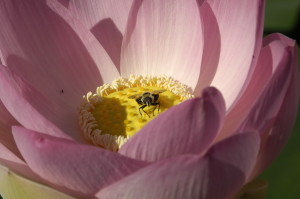 From the mid-seventies to the early eighties, I had made extended visits to Kashmir, India, to practice yoga, and of course, with youthful hubris, pursue self-realization. After all these years, I realize that garden weeding provides the same meditation practices I learned thousands of miles away: never ending awareness of another annoying intrusion, frustration that must be channelled into patience, gloating (at the end of a particularly satisfying day) followed by the crushing, humiliating discovery that the process is going to start all over again.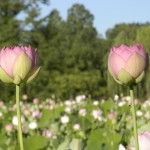 When Susan Harris, one of the pioneer GardenRant writers, and a friend, recently posted a lotus photo taken at Kenilworth Aquatic Garden National Park, it brought back these years, and also the magical Kenilworth gardens located in the Anacostia neighborhood of Washington DC.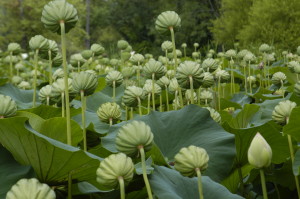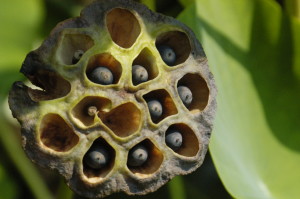 Lotus (Nelumbo nucifera), serve as metaphors in not only yoga philosophy, but also Hinduism and Buddhism. They represent the opening of awareness and a life of consciousness through the detachment described in the Bhagavad Gita (5:10). "One who performs his duty without attachment, surrendering the results unto the Supreme Lord, is unaffected by sinful action, as the lotus is untouched by water."
Majestic, slightly arrogant in their distain for the water (they loft over it) yet firmly entrenched in a muddy base, lotus petals, when closed, remind one of prayer. When they open, with a lackadaisical casualness considering their gravitas, in human perception, the blowzy pink blossom sways in an erotic dance at the slightest breeze. Their bewitching nature is never forgotten.
The city of Srinagar, where I stayed in Kashmir, is surrounded by emerald hills, literally the foothills of the Himalayas. At 5200 feet, Srinagar's signature feature is Dal Lake. It is a popular tourist destination for those seeking relief from the brutal heat in lower elevations. Elaborate carved teak houseboats are the mode of vacation rentals. Gondola style boats, called shikaras, are oared through the many canals that weave through the city. Nishat and Shamilar Gardens, created in the 17th century, are located on the lake. And topping it off, are huge, watery fields of lotus.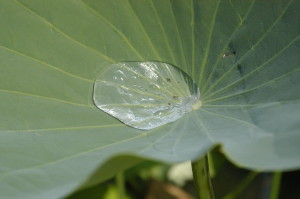 On Dal Lake, many afternoons were spent lounging on comfortable shikara cushions and being poled through the water. The boat would swish among a veritable forest of these blossoms, looming superiorly, so elegant and perfect, their color evoking a purity, breathtakingly stunning. Now, for me, they also serve as a metaphor for the years I had the privilege to spend time in such a majestic place.
After my last visit in 1982, I thought I'd never see another lotus field.
Enter Kenilworth Aquatic Gardens. But first, a little history. Let's journey back to the Civil War. May 12, 1864. The bloodiest day of the Spotsylvania Courthouse battle in Virginia which pitched General Ulysses S. Grant in his first attempt to cut down the Confederate Army led by General Robert E. Lee. A 25 year old private from Vinal Hazen, Maine named Walter B. Shaw fought with the 19th Infantry Regiment.
The Spotsylvania campaign was in the sixth day of a two week campaign, and May 12th was to be a twenty-four hour shoot out of epic proportions. (The campaign ended with Lee skirting the area. The combined casualties totaled 32,000.) Walter B. Shaw lost his "right arm, lower third, from gunshot wound received in storming enemy's works at Spotsylvania," according to Thomas Brainard, assistant surgeon at the Broad Street General Hospital in Philadelphia.
Mr. Shaw was mustered out on March 24, 1865 and went directly to Washington DC to marry. The couple acquired a piece of land on the Anacostia River, while Walter proceeded to learn to write with his left hand. He obtained a job with the Treasury Department as a clerk.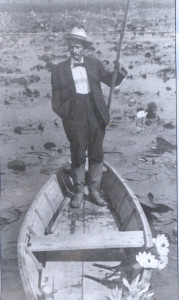 In his fifties, Mr. Shaw asked a friend in Maine to send him some white water lilies which he then planted in an old ice pond. They grew and a new pond was dug. Then another, and over the years 25 ponds had been dug, (with the help of a servant listed on the 1880 census named John Jackson, an African American man born in Louisiana). Mr. Shaw's interest in lilies developed into a commercial enterprise in1889. At its height, W.B. Shaw Lily Ponds, were shipping 3,000 blossoms a day (during the season), to the carriage trade in New York, Baltimore, Richmond, Philadelphia and Boston.
Mr. Shaw's daughter, Helen Fowler, took over the enterprise in 1912 and continued Mr. Shaw's hybridizing work. She saved the gardens from dredging by the Army Corps of Engineers, in a flood control plan during the 1920's, setting in motion its 1938 designation as a national park. During public days during the garden's heydays, Mrs. Calvin Coolidge, and President and Mrs. Woodrow Wilson were frequent visitors.
Mrs. Helen Fowler was inducted into the International Water Garden Society in 2004 for her work that included hybridizing dozens of of new Nymphaea, receiving merit awards from the New York Horticultural Society and the Royal Horticultural Society. A hybrid 'Helen Fowler,' created by her father, and named after her, is in Kew Gardens.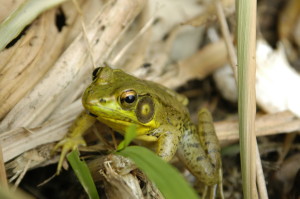 Today, the gardens retain a trace of their former grandeur with a lesser amount of lily varieties. But the lotus thrive (immune even to the northern snakehead fish that I once saw), and climate change that brings floods more frequently. There has been talk over the years to link the National Arboretum, just over the river, with Kenilworth, but funds are lacking and of course, persistent politics.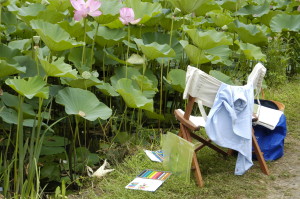 On my first visit, when I approached the lotus fields, I started to cry. I was back in Kashmir. Then, each summer, I'd keep a close eye on the calendar and through phone calls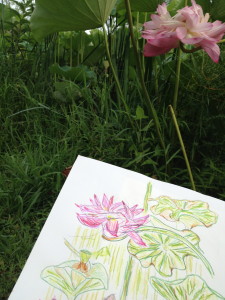 to the park office (to isolate the height of bloom), I'd make plans to spend a day in the garden with a picnic, sketch pad (the one day a year I gave myself license to draw), and a camera. It easily classified as a pilgrimage: solitary and anticipated, resulting in a sense of complete contentment, if only momentary. After all, I had to take the Beltway to get home.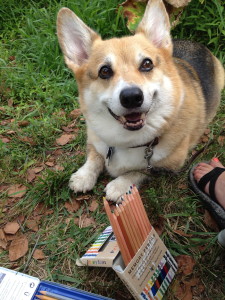 If you have a chance while in the DC metro region, mid-July give or take a few weeks depending upon the weather, try to visit this magical place. Full of history, nature (it abounds with wildlife), and the incredible legacy of a Civil War veteran, who possessed a passion for beauty and an indomitable spirit, the park, a small treasure among many, grander parks, holds its own. Walter B. Shaw is buried in Arlington National Cemetery.