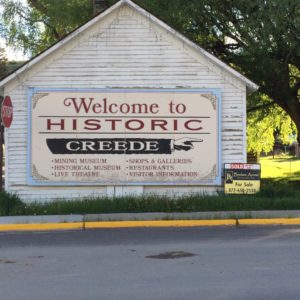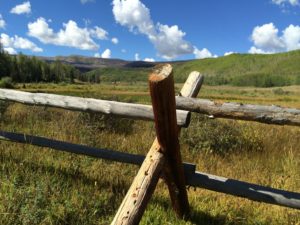 This is the oxbow of the Rio Grande close to its headwaters in the San Juan mountains just outside of Creede Colorado.  Creede is a former mining town (silver
, lead, zinc and copper) that saw its heyday in the late 1800's.  The town's motto, "there is no night in Creede" is derived from the boon it received after Denver started to shut down gambling, saloons and other recreational activities.  The purveyors of those establishments moved to Creede, across the state and literally at the end of the road.
Now nightlife is more sophisticated than when Soapy Smith and Poker Alice were plying their trade…Creede is a destination for fly fisher enthusiasts but more importantly, for the Creede Repertory Theatre.  Do you like great theatre?  Book a room in the tiny town of 290 full-time residents (according to the 2010 census.)  We stay at  Cascada Cabins but there are plenty of other places.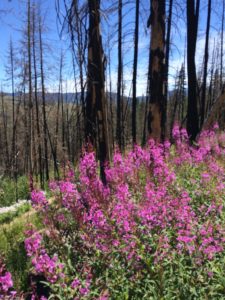 In the morning, a brisk hike "up and over" starting at 9000 feet and climbing steadily through high fields, then forest and then down through some mining ruins, past the pond that doubles as a hockey rink in the winter, a community center built into the rock and then stop to have a cup of coffee or a free donut (if it's Friday) from Tomkins Hardware and Lumber.
When you're not going to theatre or the fabulous improv the company does after some shows, there are art galleries and shops to visit.  Eat at Arps for gourmet meals and artisanal beverages or go to Kips for more casual fare.
But the natural world is the best.  Hiking is just fine.  Wild flowers abound.  Vistas are breathtaking and the air is clear.
And if that's not all.  There's the Alpine Loop 4×4…have a lunch in Lake City or just relax and enjoy the view.