Fragrance in a rose to me is akin to meditation in yoga practice,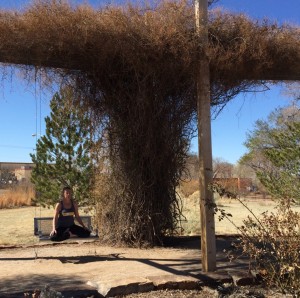 a must-have.  My current classes don't seem to practice this (they focus on asana and they are awesome!) When I was talking to my friend Amy Jane about it, she turned me onto City Silence, a program started by Stacy Sims in Cincinnati.
What could be better than meditating in a public space with whoever chooses to participate, for as long or little as they like?  And it's free.  It's a community.  It's all about mindfulness and the power of silence.
Observing conscious stillness, allowing ourselves to pause in neutral, letting non-reaction replace reaction, and sharing the quiet with others, engages an energetic empathy with yourself and the world.  Sitting vulnerable, exposed to  nature,  with strangers and friends,  it's a path to peace.
So come join us on Wednesday evenings in Santa Fe at the beautiful Railyard Park Rose Garden Ramada!  6-7pm.  There are seats, or bring a cushion.  It's fully accessible and again, it's free.  Stay for the hour or for what fits your schedule.  Inclusive.  No strings attached.  Just sharing awareness, together.