My fall/winter reading seems to have been on a thematic track, although quite serendipitously.  The next four novels (set respectively in New Mexico, Iceland, Mumbai and Saskatchewan, Canada) detail lives lived hard.  Not hardly, by any stretch of the imagination.  Hard lives.  Lives looking for meaning, lives trying to survive, hoping to belong.  In all of the books, the landscapes play a central role, underscoring the power of place and their impact on who we become in life.  The two women authors, Hannah Kent and Anne Lazurko, are debut novelists with distinguished careers in their futures.
Backlands by Michael McGarrity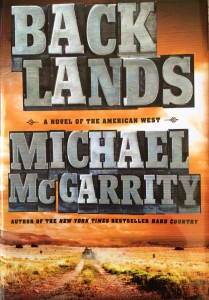 Michael McGarrity's lawman series of Kevin Kerney novels (13 of them) has a cult (and bestseller) following.  Starting with Hard Country, McGarrity set out to create a trilogy about Kerney's ancestors.  Backlands, the second,  begins following World War I in south/central New Mexico, where Patrick Kerney is estranged from his wife, Emma, and their young son, Matt.  They have lost their bright star, the eldest son, during the war.  McGarrity writes with a sparing pen that reflects the Tularosa Basin, a raw Chihuahuan Desert landscape cradled by two mountain ranges.  As Matt and his distant and, at times, abusive father, spar and eke out an existence on their ranch, depression looms, land is lost and war is declared again.  The story unfolds quietly and the century progresses with livestock overgrazing, coupled with drought, changing the livelihoods and ecosytems forever.  It's the western novel without the myth.  Small graces are never taken for granted and the American Dream is lived in hardscrabble reality.
Burial Rites by Hannah Kent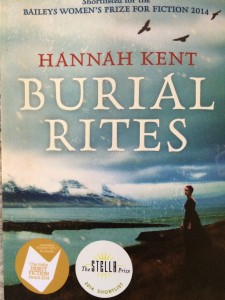 When debut novelist, Hannah Kent spent a year in Iceland as a foreign exchange student, she heard about Agnes Magnúsdóttir, the last person to be executed in Iceland in 1830.  While the reader knows at the beginning how this tale will end, Kent has woven a remarkable rendering of Icelandic life, its lichen and volcanic grit, and the people who survive it,  challenged as they are, by the elements.  Agnes is sent to work during her last days on the farm of a District Officer.  A murderess amongst them, the family is horrified and fascinated with a human who took a life and will lose her head as a result.  Humanity unfolds as thin sheaves of religious judgement falter in the face of witnessing a human who knows how to heal with poltices and herbs, whose tough exterior also slips away, as small kindnesses are exchanged.  Written around small interior spaces and expansive windswept landscapes, Agnes' assigned spiritual counselor, Assistant Reverend Thorvardur Jónsson, perhaps best reflects our vulnerabilities, fears and questions of faith as he struggles with himself to reach out with true compassion.  In Agnes' death, all lives are transformed.
Sacred Games by Vikram Chandra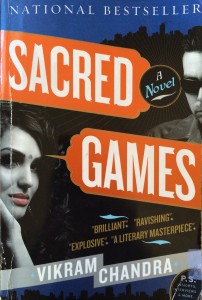 With Bombay (Vikram Chandra's preference over the current Mumbai) as a vivid, throbbing, noisy, smelly, colorful exotic character, Sacred Games mirrors Burial Rites, in that we know how the story ends.   But we don't know why it is ending as it does until 900 pages later.  Think Mumbai Mafia.  Spiritual corruption, graft and grisly murders, sex trafficking.  And what self-respecting novel about Bombay would not include the national obsession, Bollywood? Detective Sartaj Singh is summoned by notorious mobster Ganesh Gaitonde, who is barricaded in a nuclear bomb shelter.  Ganesh wants to tell his story but before he does, he offs himself and, a former model, now madame, who seems to have no history.  Thus begins the tale.  Ganesh is a ruthless cad, yet in his voice, as he posthumously tells his story, we find cracks in our disgust.  Sartaj struggles with mid-life as a divorced cop, only partially on the take, witnessing Bombay's dirtiest games.  This reader has a soft spot for India, so imagine my delight as the book's glossary, kindly provided by Chandra, enlightens us in the lexicon of Hindi cuss words, among other expressions.  The complexity of India and its myriad dialects, castes, tribes and histories, is skillfully navigated through the unraveling of Ganesh's life.  It's a wild ride, well worth taking.
Dollybird by Anne Lazurko
Another vast landscape plays a role in Anne Lazurko's debut novel,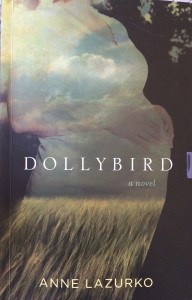 Dollybird.  An aspiring medical student, Moira, is shipped off ignominiously to Moose Jaw, Saskatchewan when she becomes pregnant.  She arrives penniless in 1906 after her escort/cousin gambles her money while en route.  Alone in a rough and unforgiving territory, her eastern sensibilities are challenged daily, as circumstances land her keeping house for an unscrupulous and repulsive land developer.  She is thrown out as her pregnancy advances and becomes a "dollybird" for Dillan, another lost soul trying to raise a young son alone, while  learning to farm on his homestead.  Dollybirds were women hired to men without "womenfolk" to, you know, do all the hard work.  They were regarded variously as whores, low lifes, and generally people who deserved the hard luck they got.  Lazurko renders the claustrophobia of a sod house, the devastating winds that destroy a season's crop and the bone wrenching work required to provide daily bread, with  light, straight forward language.  Moira makes many choices in this novel, none of them conventional.  Spirit and science are at play on the vast prairie, and they create the dance of human desires to, at once, be protected by a benevolent father (or have the satisfaction of seeing punishment meted out) while finding faith in progress that might protect them from the ravages of ignorance.