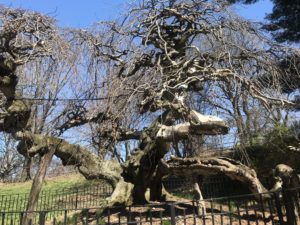 Prospect Park in Brooklyn, New York was designed by Frederick Law Olmsted and Calvert Vaux.  The team had completed Manhattan's Central Park in 1858 and shortly after the Civil War were commissioned to designed a 585 acre park for the people in the forest remains and tired farmland of the burgeoning city.
The expansive public grounds contain meadows, woodland ravines, waterfalls and streams, a 60 acre lake and recreation fields.  Near the boathouse is a contorted tree, looking like a bonsai on steroids, The Camperdown Elm.  Ulmus glabra 'Camperdownii' was planted in 1872.  It's parent tree was "discovered" in Dundee Scotland on the estate of the Earl of Camperdown; an elm whose branches grow horizontally, eventually leading them to need support.
The tree became neglected and the trunk actually contained rats nests and the like. It was scheduled for removal in 1967.   But the poet Marianne Moore raised her voice and pen in protest resulting in the tree's salvation and spearheading a conservancy movment that continues to this day.
The poem reflects on "Thanatopsis-invoking tree-loving Bryant" a reference to the poem by William Cullen Bryant who counsels those afraid of death to be consoled that they will be amongst all things beloved: trees, wind and venerable weeds.  It is a poem of humility.  We are only temporary and all beings will return to earth.
Here is Marianne Moore's ode to the Camperdown Elm
I think, in connection with this weeping elm,
of 'Kindred Spirits' at the edge of a rockledge
overlooking a stream:
Thanatopsis-invoking tree-loving Bryant
conversing with Thomas Cole
in Asher Durand's painting of them
under the filigree of an elm overhead.
No doubt they had seen other trees—lindens,
maples and sycamores, oaks and the Paris
street-tree, the horse-chestnut; but imagine
their rapture, had they come on the Camperdown elm's
massiveness and 'the intricate pattern of its branches,'
arching high, curving low, in its mist of fine twigs.
The Bartlett tree-cavity specialist saw it
and thrust his arm the whole length of the hollowness
of its torso and there were six small cavities also.
Props are needed and tree-food. It is still leafing;
still there. Mortal though. We must save it. It is
our crowning curio.