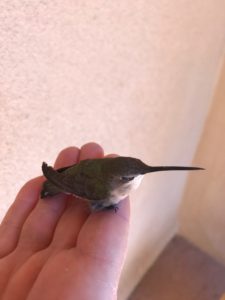 How brave, sitting in a giant's hand.  This tiny hummingbird (possibly a broad-tail/Selasphorus platycercus) crash landed into a wall.  Stunned, she lay prone.  I picked her up and she fluttered away in a wobbly trajectory landing on a hot stony driveway. Picking her up again, she sat quietly while I walked her to some shade, reassuring her that she was safe.  After the photo op, she was placed in a low planter in shade and when I checked a few minutes later she had flown.
In Medicine Cards, The Discovery of Power Through the Ways of Animals by Jamie Sands and David Carson, the humming bird is JOY.  "Hummingbird can give us the medicine to solve the riddle of the contradiction of duality."  Today's hummingbird magic felt like a visitation and an opportunity to support Mother Earth.  A privilege.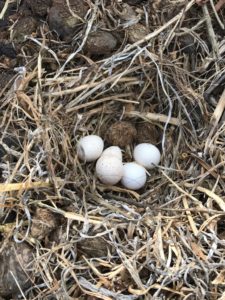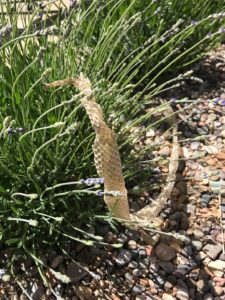 So the contradiction of duality struck me as a forest fire blazes in the Jemez with high winds and heat feeding the frenzy.  Not unlike the craziness unfolding in the nation's capitol.  Yet, witness this exquisite beauty around us, the night sky, the fledglings moving out the nests, a snake skin found among the lavender and a hummingbird.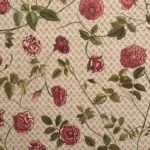 A Summer of Hummingbirds-Love, Art, and Scandal in the Intersecting Worlds of Emily Dickinson, Mark Twain, Harriet Beecher Stowe, & Martin Johnson Heade by Christopher Benfey.  What's not to like with a title like that?  It's a fascinating read.  Joyce Carol Oates pens her usual insight in a NYTimes Book review.
And finally, there's the wit of Alexander Pope: "Yet by some object every brain is stirred;/The dull may waken to a Humming-bird."  And so, awaken.