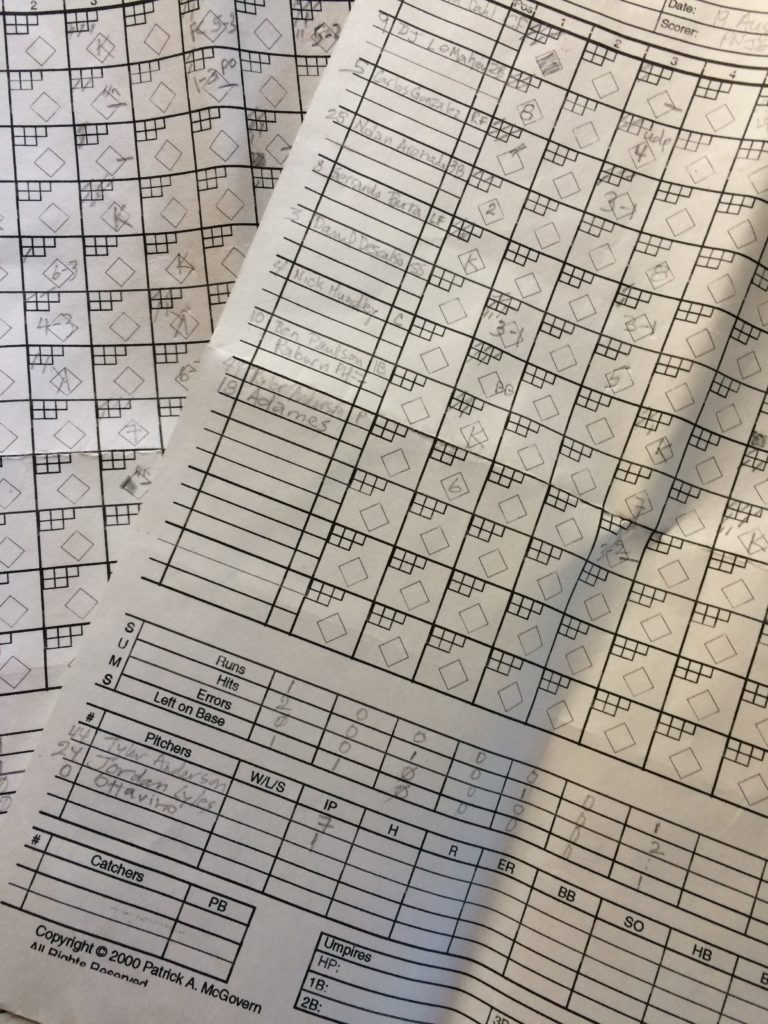 Baseball post season is underway.  It used to be we were watching the final games around what is called in some parts of the world, Columbus Day (here in the Southwest, we celebrate the  indigenous  nations …) which brings me to the subject of the Cleveland team.  Can't they get rid of Chief Wahoo?  Still, I'm delighted the team will have a chance to play fall ball on the big stage.  Wouldn't a Cubs/Cleveland series final be great?  Total win/win.
Which brings me to the subject of keeping score.  There was a time when baseball posed no interest to me.  At all.  Then I married.  He knew stats from waaaaaaaay back.  Still grieved about his stolen baseball cards (note to self:  do not label boxes in a move, "baseball cards") When we went to our first game together, he started teaching me the game, by teaching me to keep score.
It's hieroglyphics that make sense.  What a point of pride when a fan leans over and asks, "what'd he do in the first inning?"  Of course all that information is on the scoreboards now and also the scoring…(6-3) meaning the batter hit to the shortstop who threw to first for an out.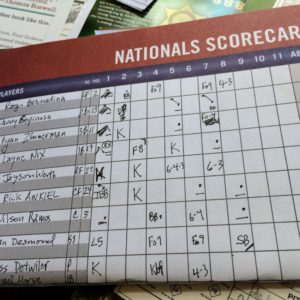 Like anything, attention to detail makes each moment more meaningful.  Baseball is no different.  Watching a pitcher's focus, the batter's intensity and the skill it takes to hit a ball.  So simple.
Last year, my husband and I had tickets to game six of the world series.  Kansas City Chiefs versus the New York Mets.  We were packed for the long drive.  I watched game five.  Kansas was up three games to one.  They were playing in New York.  Going to bed before the game was over, I followed it on-line.  Kansas was trailing  so I was confident they would lose.  Losing meant we would be in Kansas City for game six and possibly see them win the series.  But they tied up and went into extra innings.  I got out of bed to watch with my hubby who was torn…he wanted them to win,
but maybe in game six when we would be there…But the twelfth inning proved to be the game, season and series for the Royals beating the Mets 7-2.
Hopefully, someday I'll have a scorecard from a World Series games.
By the way, my friend Susan Petrone has written a great book, "Throw Like A Woman"  (reviewed here by yours truly).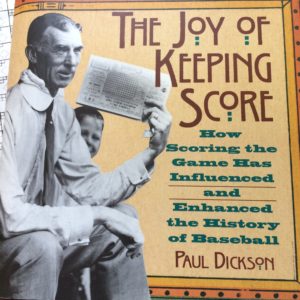 This post would be incomplete without a shout out to Paul Dickson, baseball writer extraordinaire and author of "The Joy of Keeping Score."  Here here.