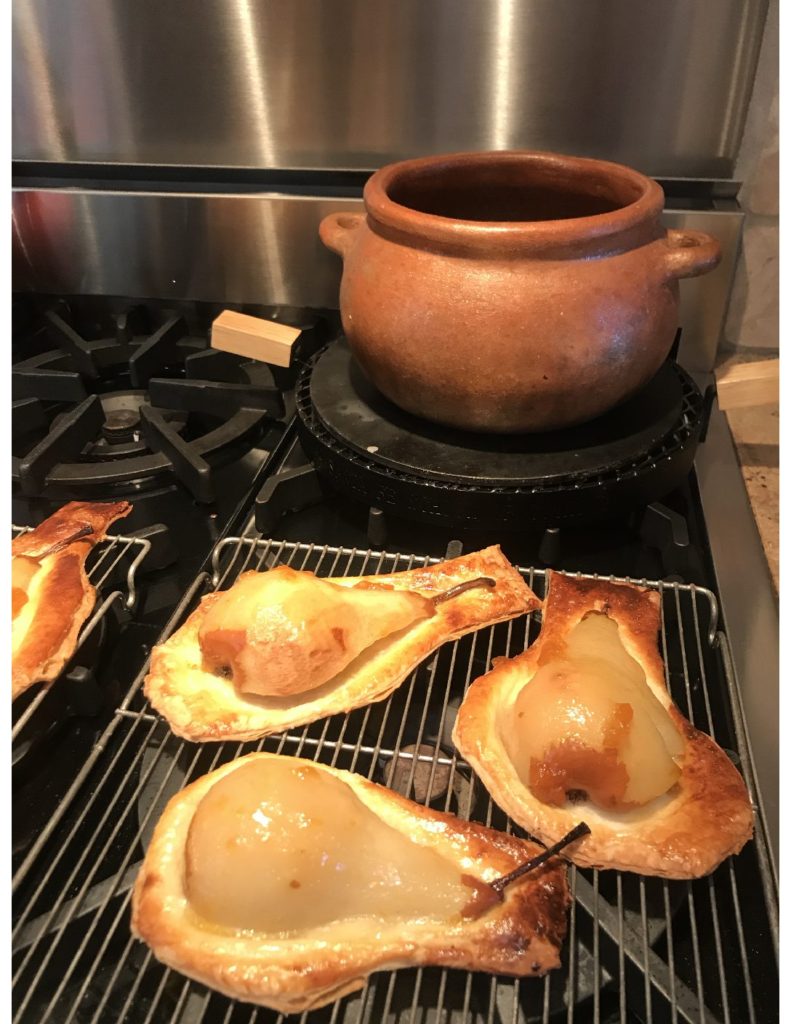 Sounds fancy – but with patience ( a good practice…) yummy and pretty (Thanks to Williams-Sonoma for the recipe) Also, recently in the NYT Lavender Everything and Everywhere…
YOU'LL NEED : 3 pears with stems intact + 2 C sugar + 4 Cups & 2 TB water + 3 TB sweet white wine + 1 vanilla bean(split lengthwise) + 6 tsp marzipan 0r 6 pitted dates or prunes + 3/4 lb puff pastry + 1 egg, beaten with 1 TB milk + 1/4 C apricot jam (don't forget to defrost your puff pastry when you start the first step)
FIRST: Peel the pears leaving the stems intact. Combine sugar, 4 cups water, wine and vanilla bean in a large sauce pan. Bring to a boil, stir to dissolve the sugar and then add the pears. Simmer to tenderize for 15/20 minutes (longer at high altitudes…). Let cool in the pan and then take them out and split in half (this is the hard part) keeping the stems intact…Put the marzipan or date into the hollow. Now preheat the oven to 400 degrees F.
SECOND: On a floured work surface, roll out puff pastry to 1/8 inch thick. Cut out six pear shapes leaving 3/4 inch beyond the size of the pears. Dry the pears thoroughly and place on the pastry rounded side up. Brush exposed pastry with egg/milk mixture. Put in oven rotating 180 degrees after 15 minutes to brown evening. Total time = 20 to 25 minutes.
THIRD: In a small saucepan over low heat, combine apricot jam with 3TB water. Cook and stir until jam dissolves. When the pastries are cooked, remove from the oven and apply the glaze.
FOR THE LAVENDER CUSTARD (Make a day ahead)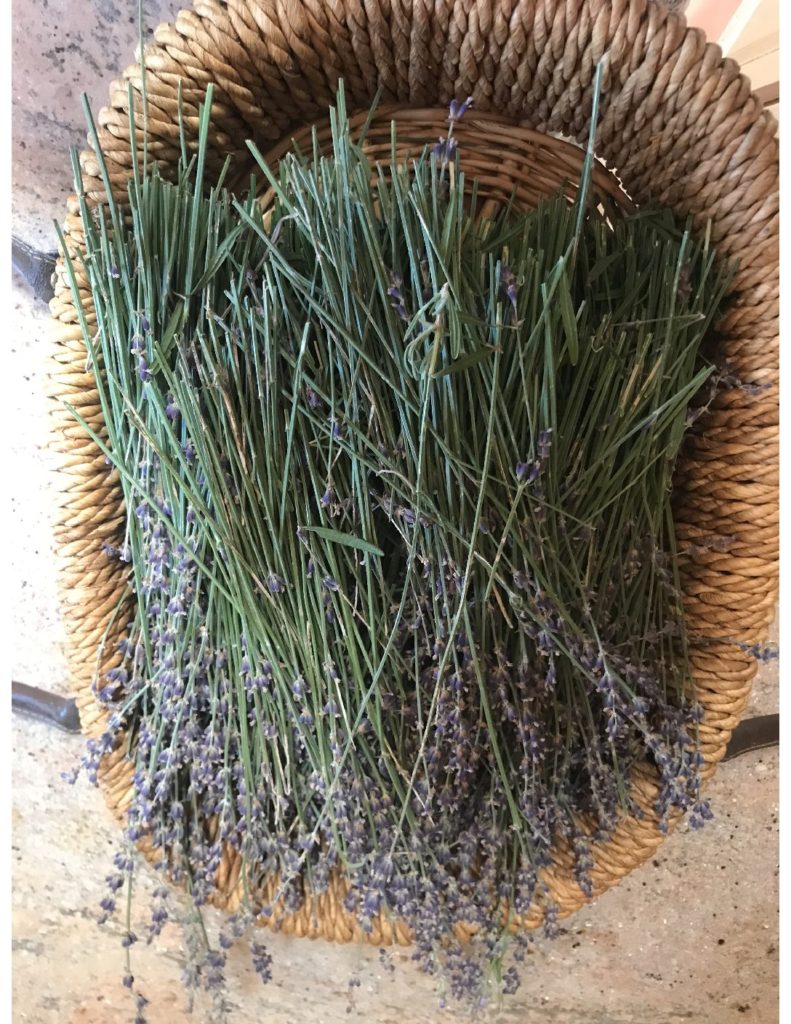 YOU'LL NEED: 2 C milk, 4 egg yolks, 1/2 C sugar, 1TB lavender flowers without stems.
FIRST: Heat the mild in a saucepan at medium heat until small bubbles appear. In a bowl, whisk the egg yolks and sugar until creamy. Pour in abut 1/2 C hot milk into the egg mixture. Whisk constantly. Place the egg mixture into the saucepan with the rest of the milk and stir until it thickens (it will coat the back of a wooden spoon) DO NOT BOIL
SECOND: Remove from heat and pour into a bowl and cover with plastic ON THE SURFACE OF THE LIQUID so that it doesn't form a skin. Refrigerate overnight. The next day, strain the liquid through a sieve and return to the fridge up to two days before serving with the plastic cover as before.
SERVE AND ENJOY.